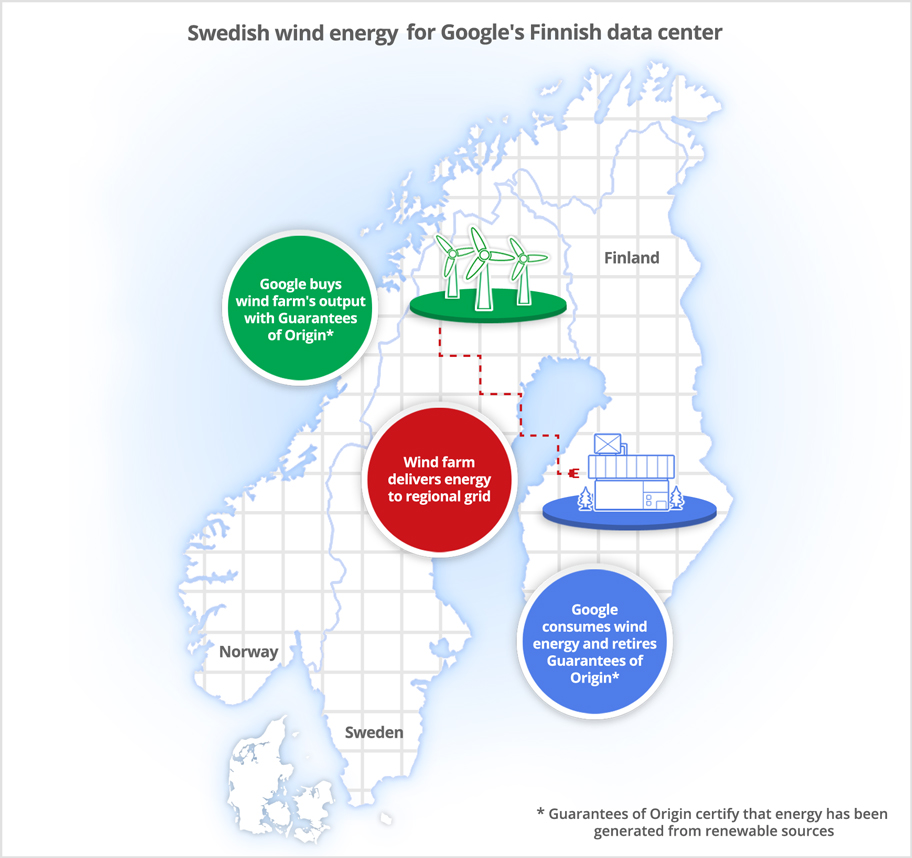 Google have this month bought the entire output of a Swedish Wind Farm for the next ten years. The wind farm will power the company's Finnish data centre with renewable energy for the next decade, Google's fourth commitment of its type worldwide and their first in Europe.
Yesterday, Google announced their deal with wind farm developer O2 and German insurance giant Allianz. O2 has obtained planning consent to construct a new 72MW wind farm in Northern Sweden, powered by highly efficient 3MW wind turbines. The geographical distance between the data centre and the farm's output means that the company will commit to using renewable energy through a "Guarantee of Origin" certificate. Renewable energy from the farm will be passed to the Scandinavian grid, and Google will then consume the equivalent amount from the central grid.
Google has had a long standing commitment to renewable energy, investing over a billion dollars into clean power projects. Recently its secretive Google X lab bought up the experimental wind start up Makani Power – a project aiming to generate electricity from airborne wind turbines.
The latest step will help improve the efficiency of their Finnish data centre. Data centres use a lot of power, and have become essential to all aspects of business, data must be available to access at all times. If Google's Finnish data centre was to lose power the effect on the company would be severe, however with plenty of back up data centres they would be able to continue.
Luckily for Google, the electricity powering their data centre will be from the grid. If there was a problem at the wind farm the actual effect on the running of the data centre would be negligible, this is because the company have purchased certificates of origin for the energy produced by the wind farm – essentially meaning they can consume an equivalent amount of energy from the Scandinavian grid – whether that energy is from renewable or non-renewable sources.
Of course, any problem with the wind farms supply is still going to have a big effect on how the grid functions. It's therefore imperative that the correct tests are carried out on all the cables used to carry energy from the wind farm to the grid. After performing tests to ensure the cable from the supplier is reliable it is then essential to test the installation. There are many variables in often hundreds of miles of cables with multiple splices that can lead to supply problems. The safest and most time and cost-effective method of testing the newly installed cable is to use VLF (Very Low Frequency) Testing.
In the past DC was used to test cables. While this is still used on paper lead cables and other older types of cabling it is no longer recommended for the testing of Polymeric Cables (cables with plastic insulation) as it has been found that using DC to test these cables can cause premature aging and breakdown.
Ideally we would use power frequency testers(or 50Hz) to test the cables however because a cable is essentially a huge capacitor it requires a great deal of power to energise the cable at 50Hz. VLF essentially operates at 0.1Hz therefore needs 5000 times less power to achieve the same result and is therefore significantly more portable and cost effective.
VLF test sets offer an affordable and portable solution to cable testing, whilst other options require equipment that is both expensive and often weighs many tonnes. The principle application for VLF testing is to test newly laid cable, with the main advantage over DC Hipot, 5kV megohmmeter, hot stick adaptor testing or soak tests, being that it does not damage and degrade the cable. Instead, the very low frequency ac test highlights any defects in the cabling, giving you peace of mind that your cable installation is reliable.
To find out more about VLF testing, or to hire one of the latest VLF test sets from HV Diagnostics or SebaKMT Visit our Website , or call one of our test equipment experts today, free on 0333 6000 600.
Tags: 
Cable
, 
DC
, 
Google
, 
Hipot
, 
Hire
, 
Hire VLF Test
, 
Inlec
, 
Test
, 
Testing
, 
Very Low Frequency
, 
VLF
, 
Wind Energy
, 
Wind Farm Testing
, 
Wind Farm VLF
Posted in 
Latest Hire Equipment
, 
Renewable Energy