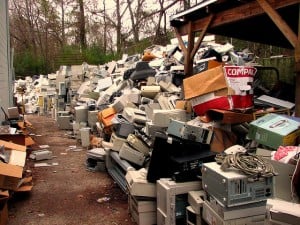 In the twenty-first century, more than ever, electrical products infiltrate our everyday lives. According to research by Deloitte published in 2013, 7 in 10 people own a smartphone in the UK alone. Yet, with consumer culture constantly bombarding the public with adverts of something new, updated and better – it is not surprising that many of these devices which were once beloved handsets are abandoned in favour of the latest model.
It is what happens to these devices once they are deemed unwanted which causes grave problems. Many discarded electrical goods are transported and dumped in developing countries, resulting in high amounts of toxic pollution. This not only has disastrous, contaminating effects on the environment but also is extremely dangerous to those who work at the landfill sites, or live nearby.
With the UN reports published at the end of 2013 forecasting the world's amount of electrical waste to grow by 33 percent by the turn of 2017, never before has the problem of e-waste seemed so alarming.
An Introduction: What is electrical waste?
Electrical waste (e-waste) is any type of electrical good which is unwanted and therefore discarded as 'waste'. The general term of e-waste includes both household and business appliances which have electrical components with either a power or battery supply, or an embedded circuit.
Examples of items discarded as e-waste include: computers, televisions, mobile phones, fridges, washing machines, dryers, toasters, kettles, tools, stereo systems and toys.
Many components of electrical goods are considered toxic and are not biodegradable, which causes problems when it comes to disposing of them.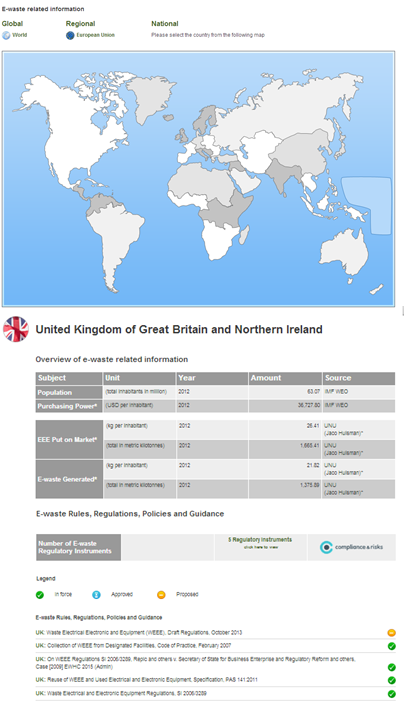 The UN's Step Initiative was set up to tackle the crisis of global electronic waste which is the fastest growing waste stream in the world.
The report highlighted that in Europe, Germany discards the most e-waste in total but Norway and Liechtenstein throw away more per person. It is illegal to send exported waste to poorer continents such as Africa however much is sent abroad under false pretences due to the significant pollution that this form of waste creates.
The report also confirms that there is very little track of e-waste across the world however it is estimated that 250,000 – 1.3 million tonnes of electronic goods are shipped from the EU to Africa every year. This waste causes significant damage to the health of local people and the environment.
Inlec UK spoke to a number of experts across the world to get their opinions on the latest statistics, information about their projects currently tackling the problem of e-waste across the globe and for their advice on the disposing of electrical goods.
Many thanks to the experts for their time and contributions.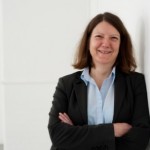 Professor Margaret Bates
Professor of Sustainable Waste Management at Northampton University. Leads projects in Africa to reduce landfill and promote the education of safe electronic disposal at specialist facilities.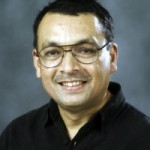 Dr Sunil Herat
Head of Environmental Engineering at Griffith University, Australia. Advisor to the UN on e-waste in developing countries and leader of university e-waste research group.

Robert Truscott
CEO of East African Compliant Recycling Facility
EACR is operating to international health, safety and environmental standards and establishing a local, sustainable IT e-waste recycling industry. Until now, the facility received end-of-life IT from business and public sector customers, as well as from the informal sector, assessing the waste for refurbishment or recycling. EACR offers its workers advice on handling e-waste containing hazardous materials such as lead and cadmium.
Experts on the Step Initiative Report…
Q: What were your reactions to the latest UN reports and estimations of the rising amounts of e-waste?
Margaret Bates: "I particularly like the map, it brings together information from a range of sources in a user friendly way.  The ease with which you can find the information is great.  I think that, in particular, developing countries will find it invaluable to compare themselves and adopt good practice from other, similar countries."
Sunil Herat: "The rising amounts of e-waste are not a surprise given the rapid advancement of IT and early obsolescence of electronic goods. The issue confronts all countries independent of their income and development levels. I can safely predict that the problem is going to get worse- especially in poor to medium income countries as they lack the resources and infrastructure to deal with the issue."
Q: In your opinion, what are the main dangers of electrical waste?
Margaret Bates: "The dangers from electronic waste come from when it is improperly treated or disposed of.  The concerns arise when waste is in developing countries where there are no proper facilities and it may be subject to open burning or acid leaching, usually to separate the metals from the plastics.  Improper e-waste management can result in the release of a large number of chemicals with potentially hazardous consequences to those around."
Sunil Herat: "Electronic products are made of number of materials, toxic as well as precious. The danger of e-waste is the leaching of toxic materials to the environment through sub-standard recycling activities. Such activities are now very common in developing countries. However, we should not forget about the opportunities related to the e-waste problem. Proper recycling and extraction of precious metals is an excellent sustainable business."
Experts on tackling E-waste…
Margaret Bates: Involved with Environmental Protection Agency project at Northampton University
Q: How did the idea for the project in Africa originate? What difference have you seen in the areas in which you have carried out educational tasks? 
"In 2009, a partnership consisting of the Basel Convention Regional Coordinating Centre for Africa for Training and Technology Transfer, (based at the University of Ibadan, Nigeria), The University of Northampton (UK) and Reclaimed Appliances (a UK based WEEE recycler), received funding from the UK Department for Business, Innovation and Skills (BIS) for an EPA (Education Partnerships Africa) Project to address the education and training needs of an increasingly environmentally regulated Africa. The aim of the project was to help build capacity amongst the informal sector in Nigeria to enable them to adopt approaches for improved environmentally sound management of e–waste.
It was clear that although delegates had previously been advised not to burn their waste, they did not realise the potential risks they were taking.   Delegates told us that now they were properly informed and knew the risks, they would change their behaviour.
Two additional companies were involved in our second workshop: HP, and Learning Light, a UK company specialising in e-learning.   Delegates were taught how to recycle for added value, i.e. the optimum level of separation, without affecting their health.  Several months after the workshops, a visitor to the markets in Nigeria was told that there was no burning since the training.
Building on the relationships developed during the initial Nigerian project an alliance of original equipment manufacturers (Dell, HP, Nokia and Phillips), and Reclaimed Appliances the E-waste Solutions Alliance for Africa (Alliance) was formed.   This has since resulted in a full scale recycling facility (East African Compliant Recycling) in Nairobi which can act as an example throughout the continent providing sustainable waste management and sustainable jobs."
Robert Truscott:  East African Compliant Recycling Facility
Q: How are you tackling e-waste at the recycling facility in Nairobi?
"We are part of an Alliance- E Waste Solutions Alliance consisting of HP, Dell, Philips, Nokia and Reclaimed Appliances (UK) Ltd. The members of this Alliance have worked tirelessly to educate stakeholders to create practical workable legislation that will provide a payment mechanism for difficult and expensive items where the value of the waste alone cannot fund the cost of collection & treatment. We have also stressed the need for the highest enforceable standards to be adopted along with enforcement to ensure a level playing field. The Alliance has also provided capacity building assistance with practical educational trips to UK/European destinations for members of staff from the regulatory authority in Kenya."
Q: What benefits has the area seen due to the opening of the recycling facility?
"The opening of the recycling facility has seen a reduction in discarded waste and markets for materials that were previously deemed to have no local value. There has also been a move away from informal rudimentary recycling which is harmful to the environment and human health. The facility and associated collection infrastructure has seen the creation of hundreds of green jobs in a very short time which will increase to thousands of jobs in the medium term through the expansion of the collection network, further in country value addition and the realisation that waste is a resource."
Sunil Herat: Griffith University Research Group
Q: How was the e-waste research group established? What kind of work does the e-waste research group at Griffith University do?
"The e-waste research group at Griffith University was established in 2005 to conduct research on how to manage e-waste in Australia. Since then the group has worked on number of research projects and published several international journal papers. Furthermore, as the group leader, I am now a United Nations Expert on e-waste where I advise the governments in the Asian region on how to deal with the e-waste issue. Currently, the research focus is on issues and challenges of implementing EPR in developing countries."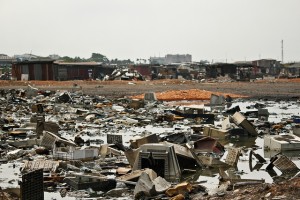 Experts on disposing of Electronics…
Q: What is your main piece of advice for people wanting to dispose of their electrical goods?
Margaret Bates: "Don't throw them in the bin. Take them to local authority facilities, or if you are a business check out the permits of the contractor you use.  Also, when you are buying things, think about the potential environmental costs rather than just the economic ones."
Sunil Herat: "I would like to advise people to practice responsible buying when it comes to electrical devices and electronic goods. If they want to dispose of their e-waste, they should always check the credentials of the recycling company to ensure that the products are safely managed and most importantly that they do not end up in countries where there are no facilities to properly recycle them."
Robert Truscott: "Waste is a resource and if you look hard enough you can find places to drop of your waste so that it can be collected and recycled. The key is not to mix the various recyclable wastes together as this will decrease the viability of collecting and recycling this waste. The earth has only a limited amount of natural resources and the choice to discard resources that can be recycled will in most cases lead to a larger corporate and individual carbon footprint. In addition to being a selfish act, it will leave the larder empty for the ever expanding global future generations depriving them of the materials required to produce the items that we took for granted."